Your Myrtle Beach golf vacation should include the latest model clubs manufactured by the top brands to ensure your best golf experience-Low Country Golf Club Rentals delivers these quality clubs for each and every customer. No knock-offs are used. Choose from:
Adams

Callaway

Cleveland

Cobra

Mizuno
Nike

Ping

TaylorMade

Titleist

Wilson Staff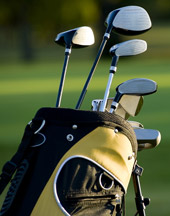 You will receive a complete set of 14 clubs that includes-a driver, three wood, five wood, three and four hybrid, five iron to pitching wedge, gap wedge, sand wedge, and putter. If you prefer a four iron-you may have that instead of the four hybrid. Also, you will receive a cart bag. Golf umbrellas are available for $5 for your entire rental period.
Why choose Low Country Golf Club Rentals instead of renting clubs at a pro shop? Pro shops are usually limited to one or two brands and their club rentals are 50% more expensive than Low Country Golf Club Rentals. Selection, service, and savings are important reasons for choosing Low Country Golf Club Rentals!